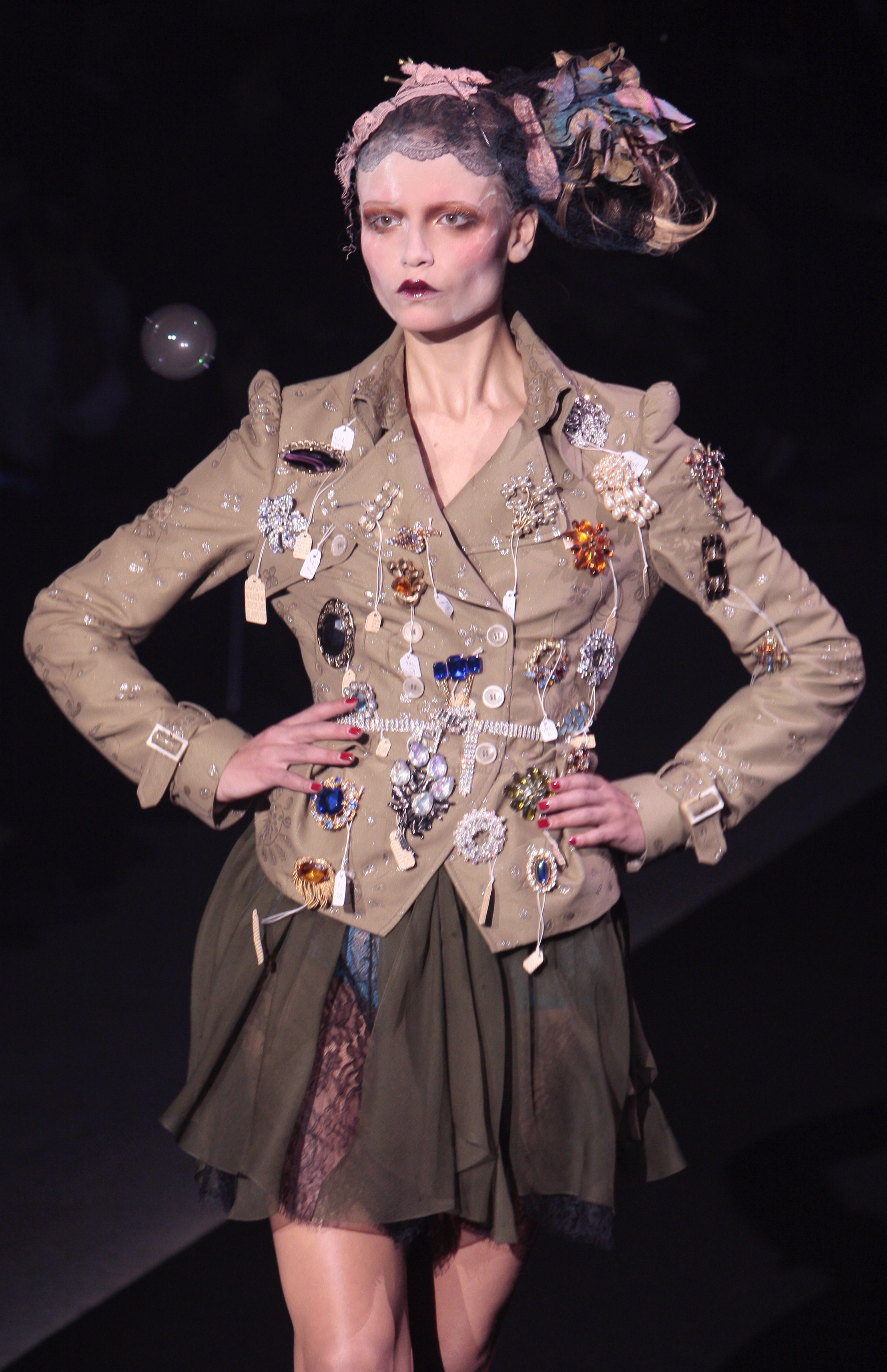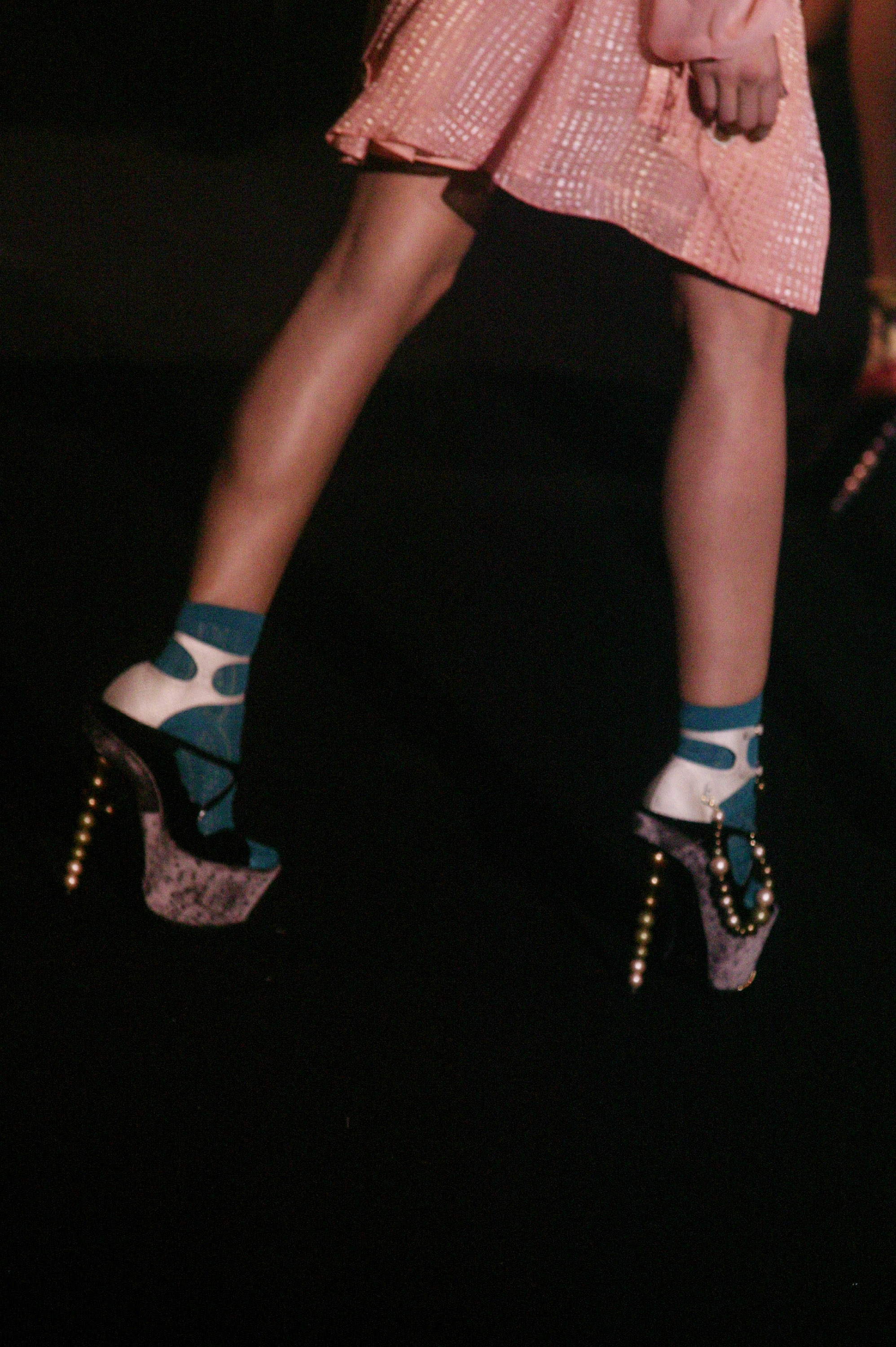 Vogue
writer, Jessica Bumpus commented on John Galliano's Spring/Summer 2010 collection at Paris Fashion Week, stating that 'there was something
Miss Havisham-meets-Sunset Boulevard
about the collection.'
There certainly was a spooky charm about this show – as Galliano toyed with the old versus the new in an enchanting assortment of clothes, there was an essence of time stood still. Galliano states that: 'It was inspired by a trip to LA visiting fabulous houses and imaging who'd live there'.
When Pip first meets Miss Havisham at Satis House, in Charles Dicken's Great Expectations he notes: 'But I saw that everything within my view that ought to be white, had been white long ago, and had lost its lustre, and was faded and yellow. I saw that the bride within the bridal dress had withered like the dress, and like the flowers, and had no brightness left but the brightness of her sunken eyes.'
Galliano's models incorporate the childhood beauty of Estella whilst also conjuring up the disintegrating waxwork appearance of Miss Havisham. This clever intermingling of the Dicken's characterisation is illustrated through motifs and symbols that are reminiscent of the uncanny relationship between Miss Havisham and Estella. The pathological effects of Miss Havisham's heartbreak control the events of the tale, in the same way that they structure the clothing in Galliano's collection.
The collection displays laced embroidered dresses worn with strings of pearls, elegant little gloves and antique jewellery that still has its price tags attached. The smoke billows from the stage shadowing the rainbow coloured bubbles that playfully bounce off the runway. The set of contrasts that Galliano draws suggest light-hearted fun that once dusted off reveals something far more sinister – his glamorous models look like perfectly painted dolls whilst their smudged eyes suggest more sorrowful undertones.
There is an eerie nuance to the whole collection, a mustiness to the clothes and a darkness to the diamonds. The fragile, floaty dresses are contrasted with intricate black lace, and the little girl socks worn with big girl shoes suggest a rupture in time – aspects of a childhood sweetheart show through the mournful composure of the ominous and the old. Bunches of decaying roses sit gracefully in the models hair, some carry pocket watches; others, bags of make up wrapped up in transparent newspaper print.
This evokes a bygone era – a point in time, a sequence of events, a tragedy that is still being clutched onto. The models look sombre, yet there is still a playful demeanour in their poise, a sense of the supernatural in their ambience. It is as if time has become detached from reality – and Galliano is illustrating to us the broken pieces of a ruptured existence. This collection demonstrates the innocence of childhood in distinction to the melancholy experienced through growing up, and therefore extends upon the metaphor of Miss Havisham and brings it bang up to date – into the homes of the rich and famous in LA.